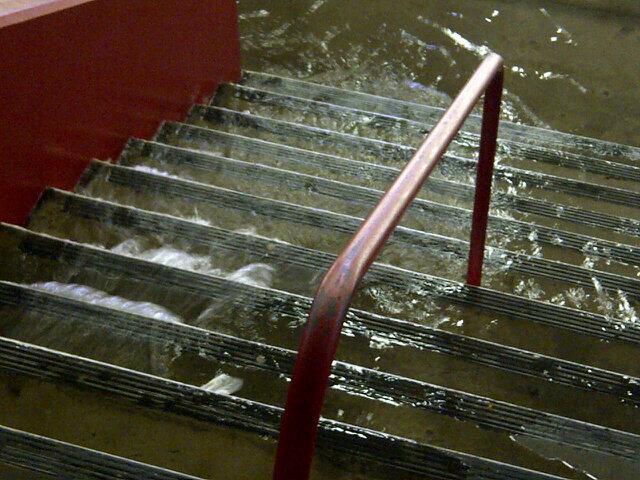 The last day of May brought another huge outbreak of impressive tornadoes in the state of Oklahoma. A familiar path it took as it developed in Western Oklahoma, jogged right down I-40, before turning slightly back to the south. In its path was downtown Oklahoma City. Although the storm weakened and the tornado lifted before it arrived in the Bricktown area, it was a potent storm that brought torrential rain, unprecedented flooding, and a trip to the bowels of the Cox Center for players and fans of the Oklahoma City Barons.
Everyone was safe, so that's the most important thing. However many in the path of these storms wasn't so fortunate. Two children, seven adults confirmed dead, and dozens more injured. As the flood waters continue to flow, be mindful of those that have lost loved ones. These storms are never without some sort of bad news.
Game four will take place tonight (Saturday) with Game five being Sunday at 4:00pm (for the lack of a game on Friday).
Here are the highlights around the Cox Center via social media:
The Grand Rapids Griffins photo team snapped some great photos. Well done, and credit Ryan Gajewski for the photos.

Oklahoma City Barons photographer, Steven Christy, snapped these photos of fans headed to their Cox Center "storm shelter" as well as the damage to the arena.
The Grand Rapids Griffins, the Oklahoma City Barons, and the Edmonton Oilers shot some pretty impressive video during and after the events of May 31st. Check out the water gushing from the broadcast booth in the first GR video.
And the tweets. Between the locker room photos, fan contributions, and scary cloud snaps, it was a night to remember in Oklahoma City.
— Josh Green (@greendogg12) June 1, 2013
Boys are safe down low in the garage. #delays #tornado #baronsnative pic.twitter.com/APKsceVKSf

— Curtis Hamilton (@hamiltonov) May 31, 2013
Intersection of #OKCBarons front office location.. Unreal pic.twitter.com/u9qWIrOL9f

— Chris Halley (@CRH1188) June 1, 2013
I love #OKC, but this weather is getting old. Stay safe people. Game 4 tomorrow night.

— Mark Arcobello (@sporkabella) June 1, 2013
We might need a boat to get to rink tmrw. @sporkabella you get that kayak yet?

— Taylor Fedun (@tfedun88) June 1, 2013
Cox center flooding pic.twitter.com/RKXXMJl0JQ

— linda (@puckchk) June 1, 2013
The morning after! pic.twitter.com/qaXPYt9ib5

— Yann Danis (@ydanis35) June 1, 2013